Well, Golly, I won an award!
Katy at
The Fashion Historian
has honored me with a blogger award! Specifically, The Stylish Blogger Award, and I'm just tickled pink. Thank you, Katy, you've made me feel very special. :) And congratulations on NYU! That's stellar!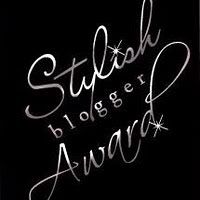 With this award comes responsibility, I am supposed to thank the person that nominated me for the award (See Above. :) ), I am now required to tell you 7 stylish things about myself, and then nominate 7 other bloggers. Ok. Here we go:
1. The color red is my best friend. I wear red shoes, carry a red purse, and wear matte red lipstick. Why? Because (at least for my brunette, fair skin self) it adds class and sass (har har) to any outfit. Even if I'm not dressed 'up'. A small punch of red just adds that extra something to any outfit.
2. I hate jeans. I find them uncomfortable and unflattering. People who say otherwise, do not know the beauty of skirts dresses and leggings. I've 3 jeans (all same cut 2 same wash and 1 I don't remember the last time I wore them) since 2008. Jeans are the devil.
3. I used to be very opinionated about different periods of dress history (1830s gross! 1660s? Disgusting!) I'm not like that anymore, I've managed to find something beautiful about every fashion movement. Except from the 1970s to today. Cultural fail. We're such slobs.
4. My year of living in Glasgow, Scotland was the most liberating for me fashion wise. I never felt so free to wear whatever the hell I want.
5. I learned how to dress and shop from my mom. When I was little we would go shopping. It would be "my turn" then "her turn". She also told me "You wear the clothes. Don't let the clothes wear you."
6. I learned how to sew in 2 costume classes at IU and a summer internship at Colonial Williamsburg in the Millinery Shop. This resulted in a phobia of sewing machines for 4 years. I still have a hard time understanding modern sewing techniques and terminology.
7. One of my first days as an intern for Linda Baumgarten, she showed me a men's court suit. I cried, it was a religious experience.
Ok, that was difficult. Now I am supposed to nominate 7 other bloggers! Huzzah!
1. Lauren from
Lady of Portland House
. She is
lovely
and her work is beautiful. Lauren has succeeded in making her 1790s clothing,
her clothing
and not a 'costume'. I just think that's fabulous.
2. Lauren from
American Duchess
. Why? Because I have a huge amount of respect for how well she's not only established her brand, but has made a great niche for herself just from a blog started 2 years ago. She's very creative and is providing silk shoes for 18th century fanatics.
3. Sarah from
Mode Historique
. She's an art historian/costume/fashion historian. She's does great research and she does funny stuff like this:
lol
4.
Mad Hattery
. 2 Words: 1. Hats. 2. Royalty.
5. Leimomi at
The Dreamstress
. She does lovely research and great posts about a wide assortment of fashion history topics. Plus, she does a rate the dress that can spur a lively debate.
6.
Silk Frocks
She's fairly new, looks like she's only been blogging for 5 months, but I'm really enjoying her blog and I hope she continues to write!
7. Rowenna at
Hyaline Prosaic
, Fellow Hoosier, Blogger, and hater of the word 'dress' for the 18th century gowns. I love that...makes my heart smile.
Ok! Wee! Congratulations you lovely women! Now you're stuck trying to think of 7 stylish things about yourself! It's harder than it looks. :)
<3 <3